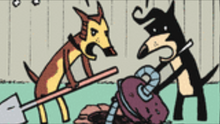 The
Italian Greyhounds
were a group of Italian Greyhounds who acted as mobsters.
Group History
In their first appearance, Poncho led them to Pooch Cafe due to the stench of tomato sauce (he had previously been sprayed by Stinky), and the began to terrorize the cafe before Beuamont drove them off.
Later, they destroyed a vacuum and buried it in the yard of Poncho's neighbors. Ironically, Poncho and Hudson had buried a vacuum in the same yard several years ago, while they were still puppies, that they had destroyed after it accidentally sucked up several of Chazz's possessions.
After attempting to retrieve their vacuum via a backhoe to protect the secret, and then subsequently destroying a good portion of Chazz's house, and crushing his car, Poncho was forced to spend a week in the doghouse. During this time, he realized it was not the same vacuum from his youth, and looked over the fence, where the Greyhounds had just dug up his vacuum. [1]
They then discovered the mix-up and threatened Poncho to remain silent, however Poncho was immune to their 'folksy innuendo' and at first misunderstood. [2]
Notes and References